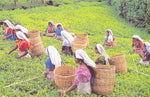 Labor and Tea Cultivation: Who is Picking Your Tea?
Despite the history of labor conditions in tea estates always having been an open secret, a lot of teamakers tend to sidestep the subject due to its less than glorious past. Even today, when things have drastically improved with government-backed labor organizations and unions keeping everything in line, there is a certain amount of shame attached to the topic.
However, we at Trishnna Tea believe that the consumer has the complete right to know where their tea is coming from. These are the real heroes behind tea harvest, who do all the hard work and receive very little acknowledgement in return. Tea is a complex product so let's take a few minutes to know some of the stories behind the cup that brings joy to so many of us. We can all try and learn something and it will only leave a conscious consumer inspired.
How it all started
While tea had been growing in China for more than 4,000 years, it was only in the 1800s that the Indian version of the beverage became popular (and global), courtesy the British. In 1828, Indian tea was sent to England for the first time and was liked for its thick brew and muscatel character.
As a result, by 1859, a significant amount of hillside forests in North-East India were cleared to create tea gardens and tribal folks were brought in as garden workers. The colonizers started commercial tea cultivation and the first major Indian tea corporation was established by the name of the Assam Tea Company.
Needless to say, there were no labor laws in place back then. As often happened with cheaply acquired working class families, the manhours were exploited and their living conditions were suboptimal.
The importance of manual workers
The first step in tea manufacturing is the plucking of leaves, so the most critical success factor for a tea plantation is its pluckers.
Tea picking is a careful and tedious process where manpower is of utmost significance. The tea you drink on the comfort of your cozy couch is handpicked by estate workers miles away from your home. Even modern mechanical plucking methods are worker-operated.
A skill passed down generations from mother to daughter, plucking determines the quality of the tea as picking the wrong leaf or bruising a good leaf can deteriorate the final product. Tea leaves are surprisingly fragile so pluckers must gingerly hold the leaves in their fingers as they flutter around the bushes.
Workers pick the bud and the two youngest leaves as that gives flavor and aroma to the tea. They separate out the two leaves and bud from the bush and twist to break it off. Sometimes they also pluck coarse leaves to add bulk to the tea. An experienced plucker can pluck an entire bush in 20 seconds. The average pick per day per worker is of 50 lbs.
Pluckers also help maintain the flat, level shape of tea gardens.
Where we stand today
Around 3.5 million people across approximately 1,686 estates and 157,504 small holdings (below 10 hectares under tea) are permanent laborers directly employed in Indian tea plantations, of which 50% are women.
Tea is the largest private sector employer in India. Individual tea estates virtually self-sustain communities. In fact, in the last decade the largest production increase came from small holdings itself.
The Indian tea industry is committed to the social welfare of its workers. The country's tea sector spends approximately 10% of total cost of production on additional labor expenses. Moreover, over 75% of Indian tea production comes from organized plantation sector. This means the entire process is traceable, from bush to cup.
As of today, laborers cannot work over 48 hours a week and stakeholders are even subjecting themselves to social audits on ethical practices by international agencies. This year, over 25% wage hike was given to Darjeeling plantation workers due to inflationary increase in production costs.
Under the Plantation Labor Act of 1951, estate workers have to be compulsorily provided with:
Housing, drinking water, free medical treatment
Primary education and day care for children
Protective clothing (umbrella/raincoat, slippers, blankets)
Weekly holidays and entitlement to leaves with wages
Subsidized rations, fuel, dry tea, etc
Trishnna Tea only sources the best tasting, ethically farmed, single-origin, high grown teas from India which are carefully blended with natural and flavorful ingredients in Houston, TX. These celebrated estates of Assam and Darjeeling are known for their characteristically different flavor and aroma profiles.
Page author - Bhavika Bhuwalka, avid writer, traveler and tea lover.