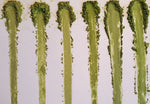 All Matcha is not created equal!
Did you know that the quality and price of matcha depends on things like where its grown, its color, fineness of the powder and the overall taste?
A lot of `fake` matcha in the USA comes from China.. whereas Authentic matcha must be grown in Japan under strict rules and guidelines. The more vibrant green color of the matcha the better it is (yellowish is lower quality) and the best quality matcha is smooth and syrupy in a cup and doesn't require a sweetener.
At Trishnna Tea we use our best negotiation skills to bring you Green Matcha straight from Japan at less than half prices of other online stores.
Our Premium Organic Matcha is the one on the far right in the pic above.